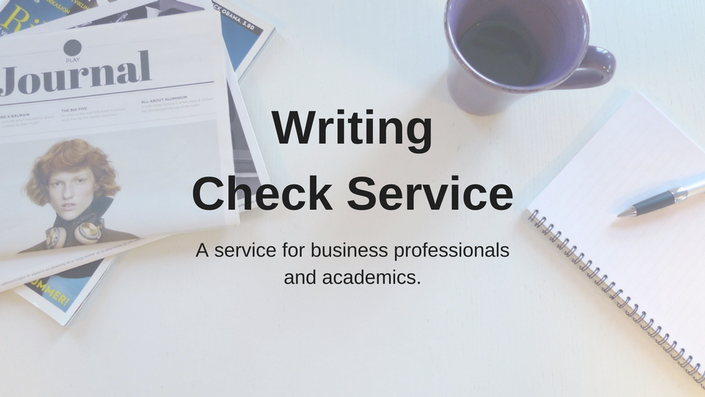 Writing Check Service
A service for business professionals and academics.
Get your English texts checked by a professional native speaking language expert.

Attention to detail

Fast delivery

Cost effective

Confidential
Email your new document or text with any supporting information to: [email protected]
Document Requirements:

Format - Word or Google Document

Font - Size 11 Minimum

Line Spacing - Single
If you are a first time user, please provide details of your full name and mobile telephone number.
You can expect a confirmation of receipt and job price within 48 working hours.
Why use our service?
If you write in English for your job or academic studies, then you will know that a native-like English style with correct grammar will make your message more effective.

Our writing check service is available to anyone who needs some help to check their written English.

We provide this service on-line for people who can write in English, but who still need some assistance to produce a natural and grammatically correct result.


Texts can be anything, from e-mails, letters and articles, to reports,

presentations and dissertations.
Pricing and Payment
All new documents are priced and invoiced individually.
Approved clients may run monthly accounts.
Price Calculation Guide:
Short documents:


0-250 words = €2.50

251-500 words = €3

501-750 words = €4

751-1000 words = €5


Larger documents, as follows with a €5 minimum charge


From 1001 words and up to 5000 words = €2 per page

From 5001 words and up to 10,000 words = €2.50 per page

From 10,001 words and up to 20,000 words = €3 per page

20,000+ words = specific quote required
NOTE: Advance credit can be purchased and will be valid for 12 months.
Conditions of Use:
We will produce professional standard English text. Suggested changes or amendments will be made in the form of comments to the side of the body of text, or as tracked changes. It is the responsibility of the client to accept or reject any alterations suggested to their text.
Unless otherwise agreed, we will return checked documents by e-mail within 48 hours of receipt of payment, or to any other agreed deadline. In the event of a foreseeable delay, we will notify you by e-mail. Payment must be made in advance, by PayPal invoice, sent once the document is accepted by us, and before checking is completed.
We reserve the right to refuse to check any text submitted, without the need for clarification. This may be due to the text content or other fa

ctors.
If you have any questions please do not hesitate to contact us: [email protected]